With a large dosage of technical fabric, perforated leather, metal and heavy, loud prints, it seems like this season, Donatella chose to take a back seat in pushing the house forward. Instead, 80s are once again, a prevalent theme with many of the pieces carrying the aura of old school Versace.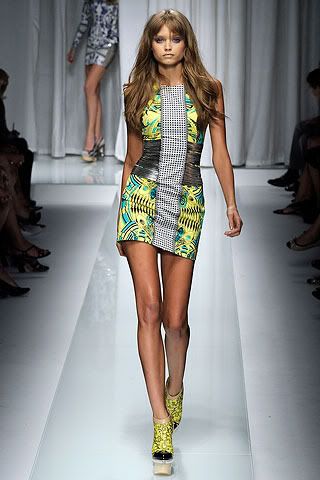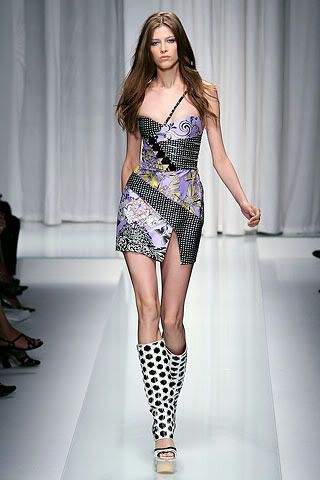 She went so far as to create a transparent plastic miniskirt! At least vintage Versace fanatics and old clientele will be happy *Paris Hilton, I'm looking at you*.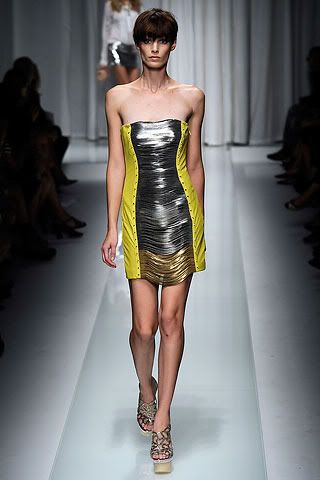 Despite the ressurection of Gianni and trashy DV, some of the design concepts in the end with the geometric evening gowns are refreshing, and upon closer inspection, the workmanship in many of the pieces are phenomenal.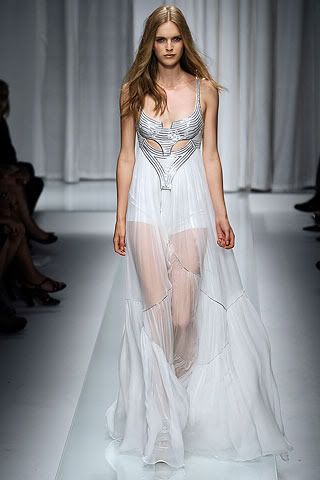 Quite a lineup of models were featured. There were two aussies - Skye Stracke and Abbey Lee Kershaw, who opened and closed the show. They also had one black model - Chanel Iman (ironic that im writing about her in a positive light eh?).
Of course, the regulars like Natasha, Lily (who both looked a little chunky in a poorly chosen garments) and Vlada were there.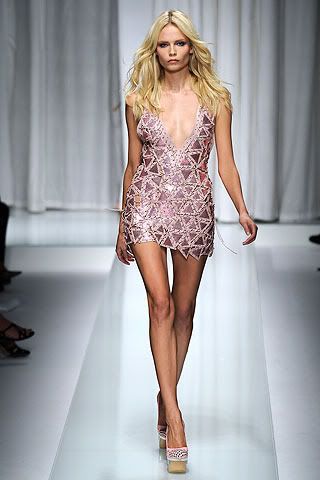 Speaking of Vlada, is it just me or does it seem like EVERYONE is going a lighter shade of blonde (or going blonde if they werent before)? Vlada, Carmen, Kasia.. WHATEVER. The only model who hasnt fallen under the pressure of uniformity on the runway is Karlie Kloss. She went a shade darker in brown.